(This essay was published in South China Morning Post on 7 June 2017.)
This year is the 50thAnniversary of the 1967 riots. The riots are popularly seen as a watershed event in Hong Kong's post-war history, but they have hardly been thoroughly researched. What follows is a narrative of housing policy choices that I believe are important distant causes of the 1967 riots.
Housing policy in Hong Kong in the past 70 years encountered seven critical junctures that set us on paths of development leading to our present housing condition. At each of these junctures, choices were made that exerted a long-lasting impact. The three distant causes of the 1967 Riots are discussed in this article, and the unintended consequences next week.
The first critical juncture was in 1947 when the government chose rent control in the face of a massive influx of immigrants.
Between 1945 and 1948 the total population in Hong Kong increased from 600,000 to 1.8 million and it kept growing. Most of the arrivals were housed in existing pre-war housing stock in cramped conditions. Those who instead opted for squatter units built illegally by private developers had quite spacious housing by comparison, and their units were more expensive.
To protect Hong Kong residents against rising rents, the government introduced rent controls in 1947 but this had devastating consequences because it became extremely difficult to evict existing tenants and almost impossible to tear down prewar units for reconstruction into taller structures.
Rent control was thus a critical juncture because it prolonged a severe shortage of housing and land in Hong Kong.
The second critical juncture was in 1954 when the government decided to use squatter resettlement to clear occupied land for development.
The new housing policy relocated squatters into publicly-provided resettlement estates after the land was cleared, but it created perverse incentives for households living in crowded tenement blocks to opt to become squatters with the expectation that they, too, would be resettled in time.
The number of squatters actually increased from 300,000 in 1954 to 600,000 in 1964. Eventually more than a million squatters were resettled.
A major problem with the resettlement policy was that it was not aimed at accommodating low-income families, but only at squatters who became homeless after their units were demolished – there was no means test.
This sowed the seeds for discontent in society. Many honest, law-abiding, low-income households living in cramped old tenement units naturally felt aggrieved because they were losing out to opportunistic squatters, many of whom were not poor but were willing to live in illegally-built squatter units.
The third critical juncture was in 1962 when the plot-ratio was amended. This followed a chain of events: in 1954 a Tenancy Tribunal ruling made it easier to evict tenants but compensation was subsequently fixed at a low rate. This led redevelopment to proceed at a breakneck pace and over-congestion became a problem as essential infrastructure lagged behind.
An ad hoc plot-ratio amendment was enacted in 1962 to reduce the amount of redeveloped land space. But it had an odd loophole that allowed for approval of work plans submitted before 1 January 1966. This loophole triggered a disastrous building rush that swept through Hong Kong between 1962 and 1965. Landlords used all means to submit building plans ahead of the deadline because this was a now-or-never decision.
Tenant eviction reached enormous proportions when old congested buildings were torn down. The living conditions of many evicted from their homes worsened considerably. Had all the ambitious building plans submitted in this window period carried to fruition, an unimaginable one-third to one half of the city's buildings would have been replaced!
Meanwhile, the rush of construction soon triggered bank runs in 1964 and 1965, and contributed to a collapse of the housing boom. Half-built structures stood everywhere. The 1967 riots occurred in the middle of this economic recession. It is not difficult to conjecture how the construction rush triggered tense social and economic conditions prior to the 1967 riots.
Indeed, economic and social discontent in Hong Kong was like a tinderbox ready to explode. The year before, in 1966, there were riots for three days following government's decision to increase the first-class fare on the Star Ferry harbor crossing by 5 cents. Many of the rioters were young people, aged 16 to 20, from the lower classes that would not even have purchased first-class tickets.
After the 1967 riots, the government made many major policy changes. The centerpiece was to embark on a massive public rental-housing program aimed at low-income households rather than resettling squatters. This would subsequently become the source of future economic and social discontent. But that is another story – the unintended consequences of the 1967 riots.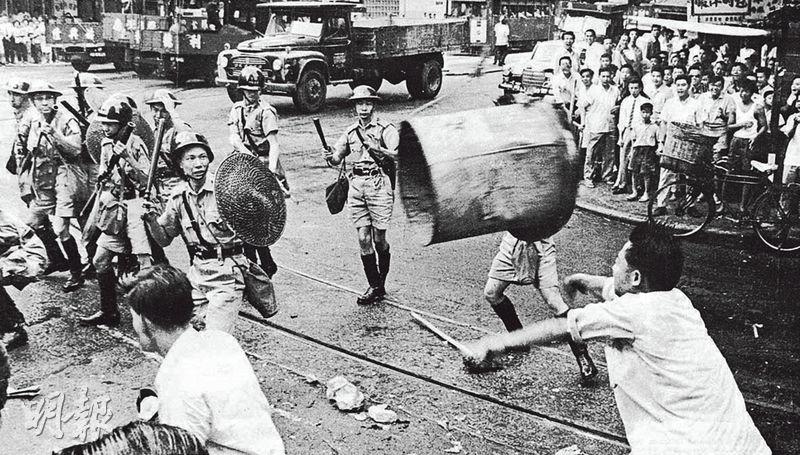 Photo: Ming Pao